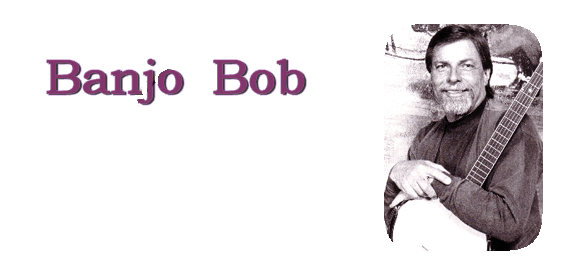 Banjo Bob has brought his musical art to many classrooms and auditoriums in New Mexico, Texas and California for hundreds of students.
His program is affordable and educational and teaches, in a traditional way, music of the American Heritage and Folk Tradition.
The kids enjoy the program, sing-a-long and clap along with Banjo Bob as he encourages them to participate.
Along with his banjo ( a truly American instrument) Bob performs with his guitar and kazoo, and his rich baritone voice calls to the students to join him.
The program works great with ages K-5 and is excellent for use with the developmentally disabled and handicapped.
Banjo Bob is truly a modern day troubadour.
Banjo Bob's wife, Melody, joins him to produce some magnificent harmonies. Not only do these harmonies expand the ears and appreciation for the students, this couple also provide male-female identification figures so that all students can identify. It's a fun and lively, high-energy program that all ages enjoy, performing songs such as:
"I've Been Working On The Railroad"
"Oh! Susanna"
"Home On The Range"
"Aunt Rhody"
"Cindy"
"Coming 'Round The Mountain"
"Ghost Chickens In The Sky"
Click HERE to see actual letters from children written
to Banjo Bob
Banjo Bob has performed assembly/classroom programs at the following schools:
NEW MEXICO
LAS CRUCES
Dona Ana Elementary
Central Elementary
Valley View Elementary
Jornada Elementary
Alameda Elementary
Conlee Elementary
MacArthur Elementary
Mesilla Elementary
Mesilla Park Elementary
Tombaugh Elementary
White Sands Elementary
IHM School
Holy Cross
Kindermusik
B.T. Washington Elementary
Cesar Chavez Elementary
Desert Hills Elementary
East Picacho Elementary
Hermosa Heights Elementary
Highland Elementary
Hillrise Elementary
Univ. Hills Elementary

ALAMOGORDO
Buena Vista Elementary
Heights Elementary
Sacramento Elementary
Yucca Elementary
Montessori Elementary
NM School for Visually
Handicapped

SILVER CITY
Cliff Elementary
6th Street Elementary
Stout Elementary
Schmidt Elementary

HATCH
Hatch Elementary

ANTHONY
Anthony Elementary
Loma Linda Elementary
Berino Elementary

LA MESA
La Mesa Elementary

LA UNION
La Union Elementary


LOGAN
Logan Elementary

ALBUQUERQUE
Alamosa Elementary
Bellehaven Elementary
Hodgin Elementary
McCollum Elementary
San Antonio Elementary

BERNALILLO
Roosevelt Elementary

TRUTH OR CONSEQUENCES
TorC Elementary

TUCUMCARI
Buena Vista Elementary
Grainger Elementary
Mountain View Elementary
Zia Elementary

SAN JON
San Jon Elementary

BAYARD
Bayard Elementary

SANTA CLARA
Central Elementary

CHAPARRAL
Chaparral Elementary
Desert Trail Elementary

SAN MIGUEL
San Miguel Elementary

SUNLAND PARK
Sunland Park Elementary
Riverside Elementary
Desert View Elementary

MESQUITE
Mesquite Elementary

DEMING
Sunshine School

RUIDOSO
Nob Hill Elementary
White Mountain Elementary
White Mountain Intermediate
EL PASO
Beall Elementary
Cielo Vista Elementary
Crockett Elementary
Clendenin Elementary
Crosby Elementary
Dowell Elementary
Hillside Elementary
Lamar Elementary
Lindbergh Elementary
Milam Elementary
Park Elementary
Putnam Elementary
Roberts Elementary
Travis Elementary
Vilas Elementary
Cadwallader Elementary
Desert Aire Elementary
Eastwood Heights
Elementary
Edgemere Elementary
North Loop Elementary
Pebble Hills Elementary
Sageland Elementary
Valley View Elementary
Newman Elementary
Zack White Elementary
Benito Martinez Elementary
Escontrias Elementary
Horizon Heights Elementary
O'Shea Keleher Elementary
Sierra Vista Elementary
School For Educational
Enrichment

Aoy Elementary
Clardy Elementary
Collins Elementary
Cooley Elementary
Douglass Elementary
Fannin Elementary
Kohlberg Elementary
Logan Elementary
Mesita Elementary
Dr. Nixon Elementary
Polk Elementary
Rivera Elementary
Schuster Elementary
Stanton Elementary
Ascarate Elementary
Del Norte Heights Elementary
East Point Elementary
Eastwood Knolls Elementary
LaBaron Elementary
Parkland Elementary
Presa Elementary
Pasodale Elementary
Hacienda Heights Elementary
Ysleta Elementary
Roosevelt Elementary
Campestre Elementary
Helen Ball Elementary
Hueco Elementary
Rojas Elementary
H. D. Hilley Elementary
St. Francis on the Hill
Elementary

WELLINGTON
Wellington Elementary
CALIFORNIA
NORTH HOLLYWOOD
Fair Avenue Elementary
Coldwater Canyon Elementary
Oxnard Street Elementary

SYLMAR
El Dorado Elementary

LONG BEACH
Roosevelt Elementary

PORT HUENEME
Hueneme School

VENTURA
Will Rogers Elementary
Portola Elementary
Saticoy Elementary
Lincoln Elementary
Poinsettia Elementary
Citrus Glen Elementary
Sheridan Way Elementary
Loma Vista Elementary
Jaunamaria Elementary
Blanche Reynolds Elementary
Elmhurst Elementary
Junipero Serra Elementary
Mound Elementary
E. P. Foster Elementary
Temple Elementary

VAN NUYS
Robert Fulton Middle School
Hazeltine Elementary

HIGHLAND PARK
Yorkdale Elementary

GRANADA HILLS
Knollwood Elementary

OAK VIEW
Sunset Elementary

ENCINO
Emilita Elementary

EL MONTE
Mulhall Elementary

WEST ATHENS
West Athens Elementary
GERMANY
Nienburg
Lower Saxony - 2 Elementary Schools