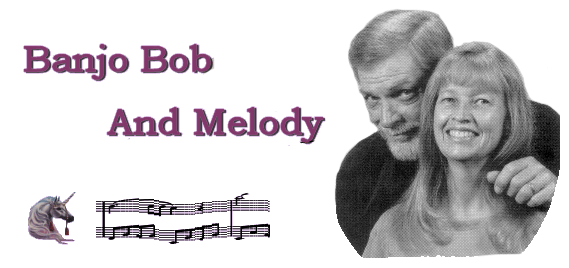 "Banjo Bob & Melody" (Bob and Melody Burns) bring years of experience along with tried-and-true traditional American folk songs in a show with high energy and fun that engages students of all ages (pre-K - 8, including handicapped/developmentally delayed) in singing, clapping and having fun; while at the same time conveying educational and historical ideas that expose children to "real" music (all acoustic) and brings them together with teachers in a real sense of community.
Beside their strong vocalization (interchangeable lead and harmony) BANJO BOB/BANJO BOB & MELODY accompany themselves on guitar, banjo, kazoo, spoons, and other percussion instruments. BANJO BOB has presented programs to over 200,000 students in California, Texas, New Mexico, Arizona, Europe and Mexico (for a list of schools, see "BANJO BOB" ).
Typical songs for Sing-a-Longs are "O! Suzanna", "I've Been Working on the Railroad", "Old McDonald" (age appropriate), and Western favorites such as "Home on the Range" and "Riders in the Sky" (and they are "famous" for their version of "Ghost Chickens in the Sky" where the students "BWAAAACK-a-Long")
Bob and Melody Burns have also appeared at the Tuscany Wine Festival in Casciano di Murlo, Italy; "The Cup" Coffee House, Sedona, Arizona and Sister Cities concerts in Lerdo, Durango, Mexico and Nienburg, Germany. The duo have also performed at the Rotunda of the New Mexico State Capitol building in Santa Fe, New Mexico and make regular appearances with the New Musical Grays Vaudeville Show listed with the Texas Touring Artists Directory. Bob and Melody have also presented concerts for the Southern Arizona Central Labor Council, the New Mexico Federation of Labor and the Rocky Mountain Labor School (AFL-CIO). They have appeared with the New Mexico State University Masterworks Chorus at Westminster Abbey in London, England; St. Giles in Edinburgh, Scotland; and at St. Peter's Basilica (the Vatican) in Rome. Other appearances by Bob and Melody have been in such diverse locations as Memphis, Tennessee; Phoenix, Arizona; Kansas City, Missouri; Nashville, Tennessee; Eina, Norway; New York City (Manhattan), and Chihuahua City, Mexico.
For booking information
P.O. Box 300
Fairacres, New Mexico 88033
(575) 525-9333
"I have always enjoyed Bob & Melody's music. They are true
professionals and I highly recommend them. If Johnny was
still on the air, they would be regular guests."
Rudy Tellez, Former Producer
"NBC's "Tonight Show" starring Johnny Carson
Click HERE to see a letter
from the Executive Director of the
California Traditional Music Society and
past Executive Director of Folk Alliance