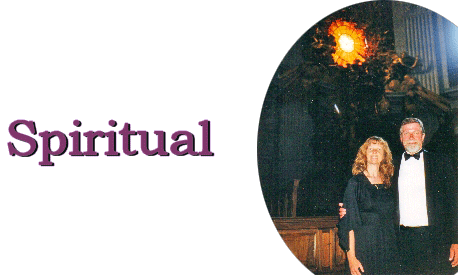 A decade and a half ago, Bob and Melody Burns embarked on a musical journey of inspiration that has taken them to far corners of the world, bringing joy and New Thought messages to many hearts and minds in many cultures. These modern day troubadours would also like to perform for your church!
Bob and Melody have a long-time Unity/New Thought connection: they met at the Unity Church in El Paso, Texas (where Bob served as board president from 1985-87). Bob is also a Unity published songwriter ("Come Share My Joy" songbook/cassette-Association of Unity Churches 1993) and the duo has performed music for an entire service at Unity Village. They have also been Music Directors at churches in El Paso and in Las Cruces and Deming, New Mexico. Bob carries the title of "Music Director Emeritus" at
Unity-El Paso. Bob and Melody have performed their "New Thought Originals" at Texas Unity Music Conferences in Austin and Dallas, and in Odessa, Abilene, and Denton, Texas as well as Santa Fe, New Mexico and Ventura and Santa Barbara, California churches.
Their ecumenical ministry has taken them to Methodist, Presbyterian, Episcopal, Catholic, Unitarian, Lutheran and Mormon Churches as well as Religious Science Churches in Tucson, Arizona; Las Cruces (Music Director 2005-2008) and Santa Fe, New Mexico; New York City and Nashville, Tennessee. They have performed concerts in Germany, Mexico and Norway and with professional choirs in such diverse places as Chihuahua City, Mexico; Westminster Abbey and St. Paul's Cathedral in London, England; St. Giles in Edinburgh, Scotland; and cathedrals in Florence and Sienna, Italy and The Vatican (St. Peter's Basilica) in Rome.
Bob and Melody have released four CD's/tapes: "Ready for the Renaissance", "Renaissance 2000, A Time For Peace" and "Our Union Makes Us Strong" and "Chickens,? in the Sky". Bob also has a CD/Tape "Pathway to a Miracle" and has published a songbook, "Songs of Peace and Miracles".
We'd love to mail you a CD if you would like to hear our music. We feel we have an exciting and inspirational ministry of music and peace.
"Official" Gospel Balladeers for:
Border Folk Festival
Chamizal National Memorial
El Paso, Texas
Arte Picante Fiesta
Las Cruces, New Mexico
Holy Cross Retreat Fine Arts Fair
Las Cruces, New Mexico
Renaissance Craft Faire
Las Cruces, New Mexico
Hillsboro Apple Festival
Hillsboro, New Mexico
Frontier Days
Ft. Selden, New Mexico
New Harley Sadler Show
Garza Theatre
Post, Texas
Geronimo Days
Truth or Consequences, New Mexico
Summer Solstice Festival
Malibu Canyon, California